Welcome, Hello, Guten Tag, Hola, Bonjour, Salve, Nin hao, Ola, Asalaam alaikum, Konnichiwa, Zdravstvuyte!
The International Kriegsspiel Society is the world's largest, online association dedicated to Kriegsspiel. It unites over 1,700 members from all over the world in the passion of studying, discussing and playing Kriegsspiel.
The International Kriegsspiel Society is an open, welcoming, inclusive and diverse community. Wargaming and especially Kriegsspiel as we understand it, focus on people, diversity of thought and perspectives, on learning from others, and reflecting about preconceptions and established concepts of thought.
The International Kriegsspiel Society endorses the Derby House Principles for inclusion and diversity in professional wargaming.
The International Kriegsspiel Society is open to everyone interested in the game, no matter the experience level or background. Kriegsspiel is easy to play, hard to master, as players don't need to know any rules!
Our mission is to preserve Kriegsspiel, to make it accessible to enthusiasts, hobbyists and practitioners, to provide extensive resources to study and play Kriegsspiel, and to contribute to the development of new Kriegsspiel systems.
In order to reach these goals, we encourage every person interested to learn more about and play Kriegsspiel to join the community, no matter their experience level, social, educational, national or religious background, age, or gender. Although we keep being positively surprised by the communication culture of our community, our moderation policy is dedicated to firmly ensure that this remains to be the case. We pledge to keep the IKS a space where you can be you, without the toxicity or inappropriate attention.
We hope to welcome you soon!
Problem Solver?
If you like to solve problems, deal with incomplete knowledge, analyse a situation, come up with a plan to overcome challenges, and see how it plays out. You will enjoy Kriegsspiel quite a lot.
Role Player?
If you like to immerse yourself into the role of a character with individual goals and characteristics, commanding a formation in the field, you will enjoy Kriegsspiel a lot. Especially those play-by-post games with lots of room for flavor texts and role playing.
Teamplayer?
If you enjoy working together with others, trying to come up with a plan, coordinate your efforts and see the fruits of your labor, you will enjoy Kriegsspiel. it is a great coop-game.
History Buff?
If you are interested in strategy and tactics, military history, historical research and such, you will enjoy Kriegsspiel a lot. Especially scenario or rule system design might be something for you, besides actual gameplay.
Graphic Artist?
If you enjoy creating graphics, draw maps, or improve old historical maps, you will enjoy the hobby. The community appreciates design work highly.
Wargamer?
Not only is Kriegsspiel "the mother of all modern wargames", complete fog of war and command friction make it a very special gaming experience, even for experienced wargamers.
Intuitive Person?
You don't need to know any rules in order to play Kriegsspiel, the umpires (game masters) will take care of all that. You simply give the orders to your units.
No, you do not need to be a military history nerd to play and enjoy Kriegsspiel.
Kriegsspiel is the mother of all wargames. Learn why it was invented, how it is played, why we try to preserve it and more.
Learn how to play (with us). Kriegsspiel is easy to play, hard to master, a unique challenge and not like any other game.
New players often ask the same questions. We want to make the entry easy for you. So here are our answers.
Map drawing, arrangement and photograph by Robert Mastrud.
Everyone in our community tends to really enjoy helping new players. If you have any questions feel free to ask them. Don't be intimidated to join games, no one here is on the level of Napoleon. I like to treat Kriegsspiel as more of a roleplaying strategy game than a competitive one. It creates great narratives. Making mistakes is part of it.
I've played many wargames and although I do like miniatures and collect them, I've never had an experience like Kriegsspiel. It cannot be beaten for realism and keeping everything tense. I mean Saturday I was literally nervous before the battle. Once battle commences everything calms down and actually being in the military it has helped me think a lot more about my job. Oddly enough, it seems to help in my prioritisation at work, too, as I think of everything tactically now and consider the next step I need to take ... like I do when playing in this society.
What I like the most about Kriegsspiel is the learning aspect, the human factor. Such as building teams, developing plans, getting confronted with other perspectives and opinions, reflecting your own ideas and preconceptions, trying to communicate in a precise yet understandable way, formulate clearly what you really intend, learning about yourself and others, learning by making mistakes. The more you are stuck believing that you know better than others or convinced that your plan is the best, the worse you will conduct in Kriegsspiel. You need to open your mind and listen. It is a humble experience.
The primary thing that Kriegsspiel has taught me has a lot to do with organization: if you have an organizational system that can respond rapidly to whatever challenge, you have a disproportionate competitive advantage, and that's reliant on good information on what you have right now and whether or not you can make that decision – and that comes up far too often not to be important.
A great part of a more general appeal is that you DON'T have to be a military history expert to get better at making decisions in the face of uncertainty.
I still lose to the new players all the time. It's the kind of experience where you can walk in without knowing rules, and through better tactics, and some luck, you can whip the old veterans. It makes for the most memorable wargaming experience. I love it!
I have to say the game today was the most fun I've had in a long time. I'm not super knowledgeable about that era of history and I wasn't sure I was going to enjoy a live game. But honestly, I could have played that for several more hours. It makes me jealous I wasn't part of Grand Gettysburg or the other big games.
I had a great experience, the umpires explained well what I had to do and or what my options were as long as I asked them. I repeatedly asked my Umpire such questions and he responded clearly each time. The briefing was clear and so was the reports. Overall I was quite comfortable with what I was doing and what I had the ability to be doing during the entire match despite it being my first time. It was one of the most fun experiences I've had with wargaming and I'm very grateful to all the umpires and others involved with hosting this game.
Jan was invited to play Kriegsspiel at the German Command and Staff College and had the opportunity to connect with practitioners from various backgrounds and talk about wargames.
Read More »
The International Kriegsspiel Society hosted a dedicated introductory game for members of the Women's Wargaming Network. What a great experience.
Read More »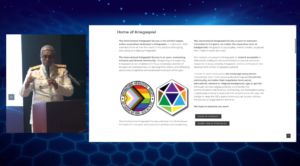 Kriegsspiel was present at the International Wargaming Symposium in Lima.
Read More »
Join our Discord server and become part of a growing community of over 1,800 members from all around the globe.
Get in touch either on Discord or via e-mail, leave us some feedback or suggestions or ask us anything about Kriegsspiel.
The IKS is commited to ensure inclusiveness and diversity within the community and stands against discrimination and harassment.
We endorse the Derby House Principles.
With more than 1,800 members on the Discord server and more than 400 members in the Facebook group, the International Kriegsspiel Society has members all around the world. Some regions are still under-represented, though, and we strive to spread the enthusiasm for Kriegsspiel as much as we can. Come join the IKS and begin your awesome ride into the world of civilian recreational Kriegsspiel.