Choose the rules that fit your game
In order to play Kriegsspiel you need some sort of system. Historically, these systems or rulesets vary from heavily detailed, the so called "rigid Kriegsspiel", to rather minimal, the so called "free Kriegsspiel". Depending on the (historical) context the game should represent and the level of detail and player command level, you need to choose or develop a fitting set of rules. If you are a player, however, you do not and probably should not read the rules or think to much about it in order to avoid "gaming" the system.
At the International Kriegsspiel Society we are using a variety of rules, specifically designed and streamlined to provide smooth and quick live play. However, only a few of these systems have been written down and most are under constant development as they improve to take historical circumstances into consideration. In this regard, designing (Kriegsspiel) game rules is deeply connected with the study of history.
Beware: If you want to play Kriegsspiel, you do not need to know any rules. All processing is handled by one or a team of umpires (game masters). We do actually recommend that players do not read the rules prior to playing in order to avoid a "gamey" approach.
Blue columns advancing.
Photograph by Ernest Stewart.
The rules developed by Reisswitz Jr. in 1824 are the most famous. Introduced as a training tool they made Kriegsspiel popular around the globe. Aiming at the detachment level with 2 minute turns, they are rather detailed and slowed by minutiae. An English translation can be bought from Too Fat Lardies.
Although Kriegsspiel had always been a military training tool and a recreational game, new iterations for military use were much discussed in the 1870s. In 1871 Tschischwitz published his "Guide to Kriegsspiel" which presented a slightly more streamlined version of Reisswitz's system.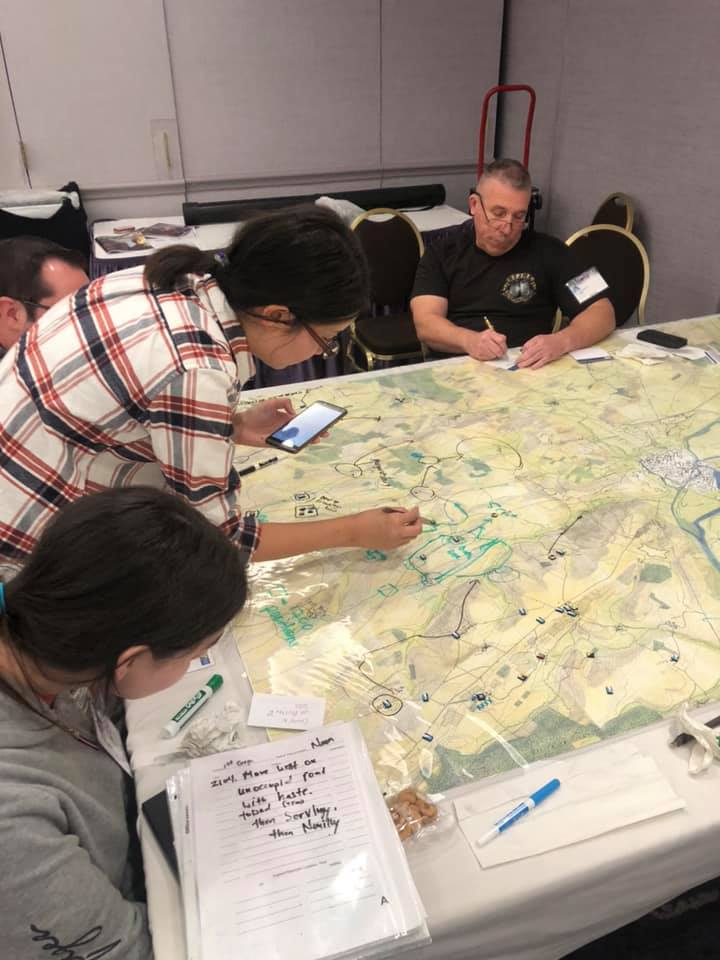 Jakob Meckel fostered the use of Kriegsspiel even more when he published his "Studies on Kriegsspiel" and several (fictional) maps specifically designed for Kriegsspiel in 1873. Meckel argued that many elements of "rigid" Kriegsspiel would prevent the usage of the game.
The German general Verdy du Vernois was the most famous advocate of "free" Kriegsspiel, the radical counterpart to Reisswitz's "rigid" Kriegsspiel. Verdy argued that in order to speed up the gameplay the umpires should simply judge the outcome of a given combat situation and assign odds to roll a common d6 or no dice at all in his book from 1876.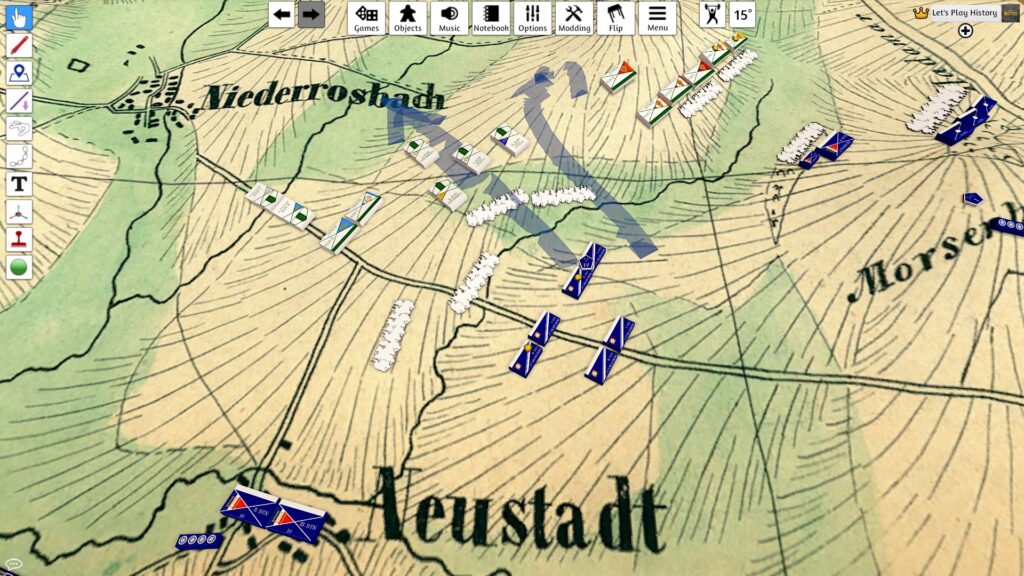 One system developed by a member of the International Kriegsspiel Society is the Ottovski System, designed by Otto Salo. It is focused on Napoleonic combat with pieces being battalions, squadrons and batteries. Game turns represent 15 minutes. The special thing about the system are the unit type specific twelve sided dice for infantry, cavalry and artillery. The rules are freely available and include tips for umpires and players.
Heavily inspired by Reisswitz's 1824 rules, the K22 System was developed by Marshall Neal of the International Kriegsspiel Society. The rules focus on detachment level (brigade to division) and represent 5 minute turns. However, they are much more streamlined for efficient play, and use specific dice to abstract combat effects compared to Reisswitz. The rules can be bought at the IKS Etsy shop.
Join our Discord server and become part of a growing community of over 750 members from all around the globe.
Get in touch either on Discord or via e-mail, leave us some feedback or suggestions or ask us anything about Kriegsspiel.
The IKS is commited to ensure inclusiveness and diversity within the community and stands against discrimination and harassment.
We endorse the Derby House Principles.